In today's world, when you mention games, most people will assume you mean the latest iPhone or Android app that you downloaded, so you can sit mindlessly and click click click for hours. Not that all games on smartphones are mindless, but to really stimulate your mind, sneak in some exercise, and connect with friends and family, pool and ping pong are great options.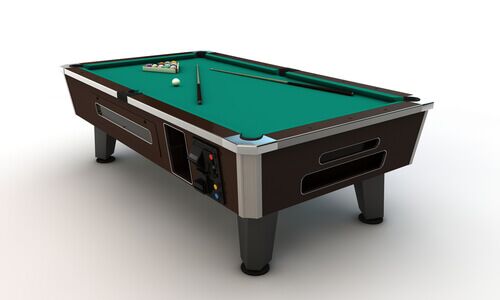 The game of pool, also known as Billiards, has a rich history, spanning back to the 15th century. Interestingly, the first recorded billiard table was ordered by Louis X1 of France in 1470. Mary, Queen of Scots from the 1580s had some, err, interesting billiard table references. (Look that one up!) Shakespeare refers to billiard games throughout his plays, including Antony and Cleopatra (1609), when the old joker has Cleopatra say, "Let's to billiards. Come, Charmain" (Act II, Scene 5).
Ping pong, also referred to as table tennis, also has a long history, though not quite as long as billiards. The first mention of ping pong is dated back to the 1880s in England when the upper-class Victorians played it for entertainment. A neat fact is that the Victorians originally named the game "Whiff-Whaff" because of the sound the ball made when it bounced.
Anyways, as you can see, pool and ping pong have been around for centuries, and they continue to be enjoyed by millions of people every day. You don't have to be an expert in either game. These are games anyone can play, from your eight-year-old nephew to your 82-year-old grandma and everyone in between.
However, with all this fun talk about playing pool and ping pong, I know you're thinking one of two things, probably both:
I don't have the space for a pool table and a ping pong table.
I can't afford a pool table and a ping pong table.
We understand these challenges for game lovers: how to make the most of the space you have and how to afford multiple games on a budget. However, there's a solution (there always is!)
Pool table and ping pong table combinations, also known as multi-game tables, are your answer to both these challenges. You don't have to add a ping pong table AND a pool table to your game room, living room, dining room, or wherever you envision adding it. You can add both games (and other games!) in one table (that is generally smaller than standard size).
In addition, multi-game tables are cost-efficient since you will be buying two (or more) games for the price of one. They are a great investment that will save you money!
Here are our recommendations for pool table ping pong combo, and make sure you read until the end because we offer some great buying advice for the pool and ping pong lovers.
Ping Pong Table Pool Table Combo Folding
1. Hathaway Maverick 7-ft. Pool and Table Tennis Multi-Game
Hathaway Games & Sports are known for "combining old-world craftsmanship with modern innovation," as you will see from this quality pool table/ping pong table combo.
Ideal for kids and adults alike, the Hathaway Maverick is a stylish, sleek 7-ft. pool table that conveniently converts into a ping pong table, all for a reasonable price. This table is a great investment for families that want to spend quality time playing together while adding a versatile piece to their recreation rooms. However, because it's small, you can perfectly place it in your apartment or lobby.
Here are all the impressive features:
Dimensions: 84 x 46 x 31 inches; 252 pounds
Play surface material: manufactured wood
Frame material: manufactured wood (in black)
Tabletop thickness: 0.625"
High quality, blended wool/polyester felt
Reinforced, K-66 gum rubber cushions
5" independent leg levelers
Durable resin molded drop pockets
Silver laminate top rail with chrome-plated corner caps
Simple two-step conversion between games
Includes 16 billiard boards, two cutes, chalk, a triangle pack, and a brush for the pool table
Includes a net, post, two table tennis balls, and paddles for the ping pong table
180-day manufacturer warranty
This well-constructed table is made of manufactured wood that is covered in a durable black laminate, protecting it from scratches. The premium quality felt and true roll bumpers ensure a smooth playing experience.
As far as set up, Hathaway includes a 6-step installation "to get the part rolling in no time." Seriously, users of this table report it's easy to assemble and takes an hour or two from start to finish. The 180-day money-back guarantee ensures that the product arrives safely to your front door with all the accessories. If there are any defects or issues with this table, Hathaway will send you either new parts or a new table. Their customer service is spectacular!
PROS :
Two recreation games for the price of one
Smaller size makes it easy to place in any room
Stylish plan with red pool table and blue ping pong table
Leg levelers ensure stability
Comes with all the accessories for both games
CONS :
No ball return for the pool table
Gum rubbers may lack accuracy in rebounding shots
Because of its non-regulation size, this is not a table suited for professional players
2. Fat Cat Original 3-in-1 Game Table
Fat Cat features a myriad of recreational products, including the Original 3-in-1, 7-foot Pockey Game Table. This revolutionary multi-game design offers three of the most popular games that would normally take up space of three separate tables, all in one single unit. With the Fat Cat Original Game Table, you will get billiards, Air Hockey, and Table Tennis, all for the price of one table! The convenient 7-foot size fits into most rooms, leaving space to spare.
The features of the Fat Cat Table include:
Dimensions: 87 x 44 x 32 inches; 286 pounds
Materials: composite wood, Tetolon cloth, rubber bumpers
Color: black
Tri-fold technology makes changing games easy
Each table surface is optimized for its game
Patented latch locking system
Sleek, built-in pocket design for the billiards table
16-feet power cord threaded through the table
Pockey table features a full-powered electric motor that can output 80 cubic feet of air per minute
Includes all the accessories to play pool, air hockey, and ping pong
Convenient 7-foot size easily fits into tight spaces
Reversible table top is stored in a versatile frame complete with storage units
Affordable price
90-day warranty
As mentioned, you will get all the accessories for all three games. The Pockey table includes four pushers and pucks, a set of 2.25" billiard balls, a resin triangle, two 57" cue sticks, a billiard brush, two pieces of chalk, two table tennis paddles and balls, and a net with a post set.
The tri-fold tabletop technology makes changing games easy; all you do is unlock the latches and flip it over. It can also be locked for storage. Customers report that assembly is easy, but may take more than two people to lift the table on the stand.
PROS :
Three games for the price of one
Convenient size fits easily in tight game room spaces
Fully accessorized for all three games
Easily latch locking system
Well-designed with an attractive look
CONS :
Table is heavy which can make assembly challenging
No billiards ball return system
Uses a manual scorer
3. Triumph 3-in-1 Swivel Multi-Game Table
Triumph Sports USA takes quality very seriously, whether it's the quality they pour into their products or the value of quality time with family and friends. They combine their passion for quality products and quality time with loved ones with their Triumph 3-in-1 Swivel Multi-Game Table, constructed with the finest materials and thoroughly inspected before it's shipped to you. This rotating table design allows you to convert to a game of pool, a game of air hockey, or to a game of table tennis in just seconds.
Check out all that the Triumph 3-in-1 multi-game has to offer:
Dimensions: 84 x 44.5 x 32 inches; 288 pounds
Materials: composite wood, high-density green nylon blend; glossy PVC laminate
Three games on one table: air hockey, billiards, and ping pong
Rotating swivel table changes games in seconds
Leg levelers ensure stability
Patented central air distribution system provides airflow through the table
Tables come with accessories for all three games
Perfect for your family game room, break room, or rec room, this rotating table features built-in billiards and air hockey with a slide-off cover for ping pong. The air hockey game is powered by a 110V 60Hz UL standard blower, which keeps the table from overheating.
The Triumph 3-in-1 Table comes with all the accessories you need to start playing your favorite games. These include one set of billiard balls, two 57-inch, two-piece cues, one triangle, two chalks, one table brush, two red air hockey pushers, two red pucks, two ping pong balls, two ping pong paddles, and a net and post set.
PROS :
Three games for the price of one
Easy to convert table to change games
Patented central air distribution provides even airflow
Full set of accessories for all three games
Reasonable price
CONS :
Assembly requires significant time and effort
The three-piece table tennis top may be challenging to install evenly
4. Sunnydaze 10 Combination Multi Game Table
Sunnydaze is a company that creates innovative, high-quality home and garden products. They consist of a team of talented designers who bring creativity and fun into your home. The Sunnydaze 10 Combination Multi Game Table is one of their unique inventions, perfect for kids, teenagers, and families.
It features not two or three, but ten games all in one table. With this table, you will spend hours playing pool, foosball, push hockey, table tennis, chess, checkers, cards, backgammon, shuffleboard, and bowling! Even better, the innovative design allows more playing time and less assembly time.
Full specifications:
Billiard table dimensions: 22.5 x 27..5 x 40 inches
Foosball table dimensions: 24 x 32 x 41.25 x 3.5 inches deep
Weight: 60 pounds
Materials: Medium-density fiberboard, Wool
Interchangeable tabletops for each game make transitioning games easy
Built-in storage for accessories
Leveling feet for stability
Easy assembly
Space-saving storage
Comes with one pack of game supplies for every game
One year manufacturer's warranty
The two "main" tables are the pool table and the foosball table. While they each have their own measurements, they stack together nicely. Each tabletop not in use can be stored between these two tables. Assembly is easy, and most customers report they set up the table in under an hour.
This 10-in-1 combination table also comes with a package of game supplies for every game. This unique table really has "a little something for everyone," and is perfect for hours of family fun, whether you want an intense game of air hockey, a stimulating game of chess, or a laid-back game of shuffleboard.
PROS :
Ten games in one table!
Compact design fits in most homes
Interchangeable tabletop to switch games
Simple, efficient assembly
One year warranty
CONS :
Table cannot be folded
The quality of MDF isn't as durable as solid wood
Frequently Asked Questions
Why buy a pool table and ping pong table combination?
Purchasing game-specific tables can be costly and impractical for many consumers. With the merging of the two, you can have both. Here are some other reasons why buying a pool/ping pong table is a great idea:
A multi-game table inevitably takes up less space than two separate tables. This is a perk, of course, since game tables aren't small in the first place. If you love both ping pong and pool and are limited on space, a multi-game table is the perfect solution.
A pool table/ping pong table combination saves you money. Do your own research and compare prices between a standard pool table (or ping pong table) and a combination table. You will see that with a combination table, you are getting two (or more) games for the price of one.
A pool/ping pong table is a great way to get some exercise. With pool, you are constantly walking around the table, and with ping pong, you are exerting more energy by hitting a ball back and forth to your opponent. Exercise not only improves your physical health but your mental health.
A pool/ping pong table combo is a good investment in quality time with others. In this digital age that we are in, most of us are distanced from each other through our constant use of electronics and devices. To increase quality time with family and friends, a pool/ping pong table combo is a great idea. You will get endless enjoyment from connecting with loved ones!
I guess the question should be, why should you have to choose between a pool table or ping pong table? The answer is, you don't!
Are there similarities between pool and table tennis?
While these games differ in format and strategies, they do have some similarities.
Playing "pool" generally means the cue sport played on a pocket billiards table. Within this broad sport, there are several types of games, such as 8-ball, 9-ball, straight pool, and others. In order to play, you need to understand the rules for each game, along with essential skills that apply to these games, such as breaking, aiming, shooting, defense, cue ball control, strategy, and more.
One of the best aspects of playing pool is that it can be played and enjoyed by people of all ages and levels. Table tennis is another sport that can be enjoyed by pretty much anyone. While more fast-paced than pool, table tennis is more than just hitting a ping pong ball back and forth to an opponent. There are rules to be followed and skills to learn, including ready position, gripping the racket, racket angles, basic ball control, basic strokes, backhand push, forehand drive, and more.
Both games entail practicing skills and strategies in order to win the game, but most importantly, both games are a lot of fun!
Do pool table and tennis table combos come with balls, cue sticks, and paddles?
This varies depending on the table, but most of them do. When they are provided with the table, you will save money since you won't be buying these accessories separately. All four of our recommendations come with game accessories that you need to play!
Is there a pool table/ping pong table combo that works for unleveled ground?
The answer is no. A leveled playing surface is vital for playing pool and table tennis. If you have uneven ground, know that most pool/ping pong table combos come with leg levelers. This is an important aspect to take into account when buying a table.
Can I put a pool table ping pong table combo outside?
Ideally, a pool/ping pong table combo is meant for the indoors. The reasons for this are that they are not designed to withstand weather, pests, and mildew. However, while all four of our recommendations are indoor tables, many manufacturers are beginning to construct tables made with durable materials to withstand the outdoor climate. These typically are made with two layers of PVC vinyl, equipped with pockets with drain holes for rain, and made from metal, so they will not rust.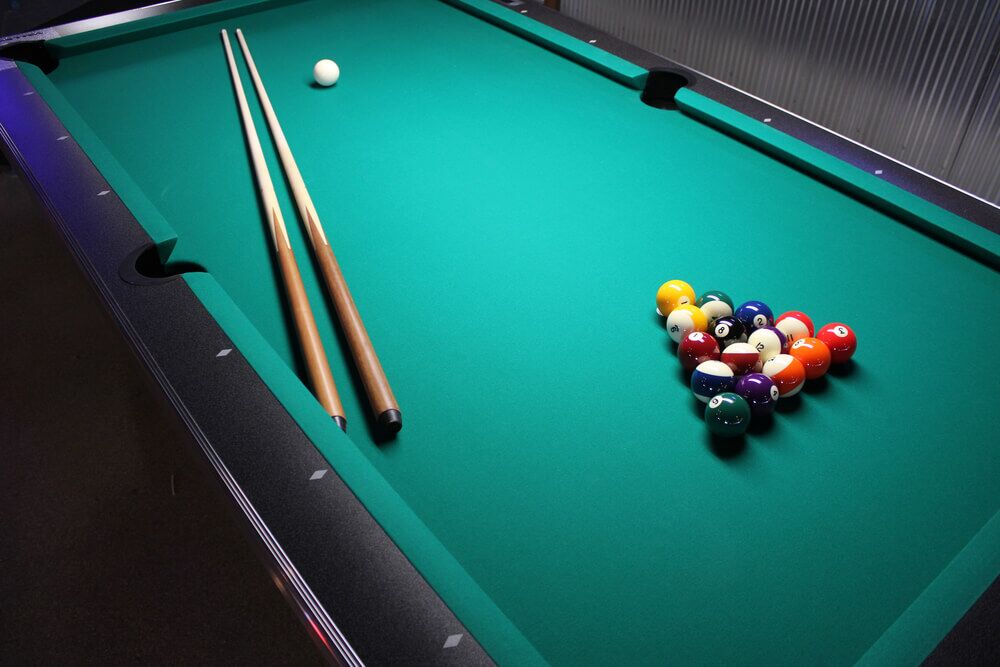 Pre-Purchase Considerations
If you are convinced that a multi-game table is exactly what you need in your life, then check out these factors to use when choosing the best table:
Size:
While multi-game tables ultimately save space, they still take up space. Make sure that you know where you will put your table. Then, take measurements of your space, so you have a baseline when shopping for a table. The table should fit nicely in the room while leaving some space around it for playing time.
Design:
When looking for a table, check out not only the size but the design. You want a table that is durable to last for a long time, so look for a sturdy construction. A great table should not be extremely heavy, but should be sturdy. The materials should provide a smooth surface for playing.
Storage:
Many tables include storage capabilities where you can store your game accessories. This is a feature to look for so that you can save space.
Leg Levelers:
Leg levelers are important in pool table/ping pong table combos because they ensure that your table is balanced. Leg levelers are best when they are incorporated in the leg's design. They ensure that the table is level at all surfaces, including uneven ones.
Accessories:
Look for tables that come with all the accessories you need; that way, you won't have to buy cue sticks, paddles, and ping pong balls separately. Most multi-game tables do include the accessories needed for a fun playing experience.
Types of conversion methods:
There are three basic types of tables, including convertible, rotational, or flip-top (that's my original term for these types!) The convertible table is one that has a solid base and surface. It lets you add more pieces to change the surface and type of game you are playing. Our first recommendation, the Hathaway Maverick, is a combination table.
The rotational game table comes with a stationary base and a "rotator" to change games, like our third recommendation, the Triumph 3-in-1 Swivel Table. The flip-top table has a double-sided top, so that you can play one game on each side. The Cat Table, our third recommendation, features the "flip-top" methods.
Budget:
Obviously, you need to choose a pool/ping pong table combo that fits into your budget. However, this shouldn't be a huge issue since most of these tables are cost-effective. Seriously, some of them are surprisingly low cost for all the features offered!
What's the Bottom Line?
Now that you are armed with the knowledge you need to start shopping for a multi-game table, it's time to get to the fun part: start looking around! Take our recommendations, as they are all great choices, or research some others.
Pretty soon the days of sitting with your family in front of the TV or sprawled out on the couch, all engrossed with the latest game on your devices will be minimal, as you will have something much more exciting to do!

Hey! , I am Roland Campbell , a recreational table tennis player for over 5 years and counting. I do a lot of research on table tennis (Ping Pong) and publish my findings here at Pingthatpong.