How do we really decide who the greatest players are?
By their achievements , of course.
However, given that the body that monitors these records, ITTF , was founded in 1926 and got included in the Olympic games in 1988, the top 8 players of all time came from that time frame till date.
It is important to note that the Asians are by far the most dominant in this sport, followed by Germans and others from around the world.
The Greatest Table Tennis Players Of All Time
This list is of the eight greatest table tennis players of all time :
8). Jan-Ove Waldner :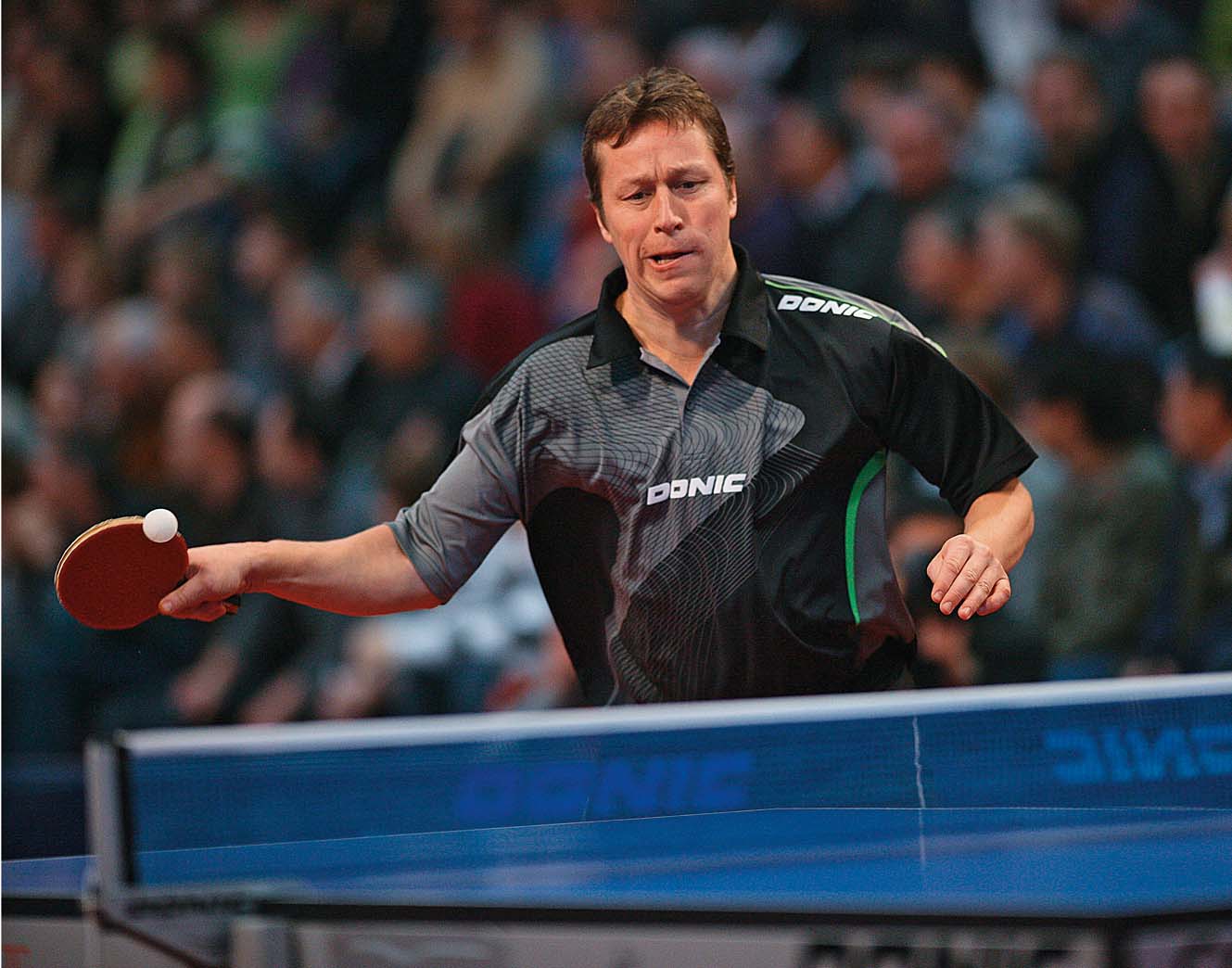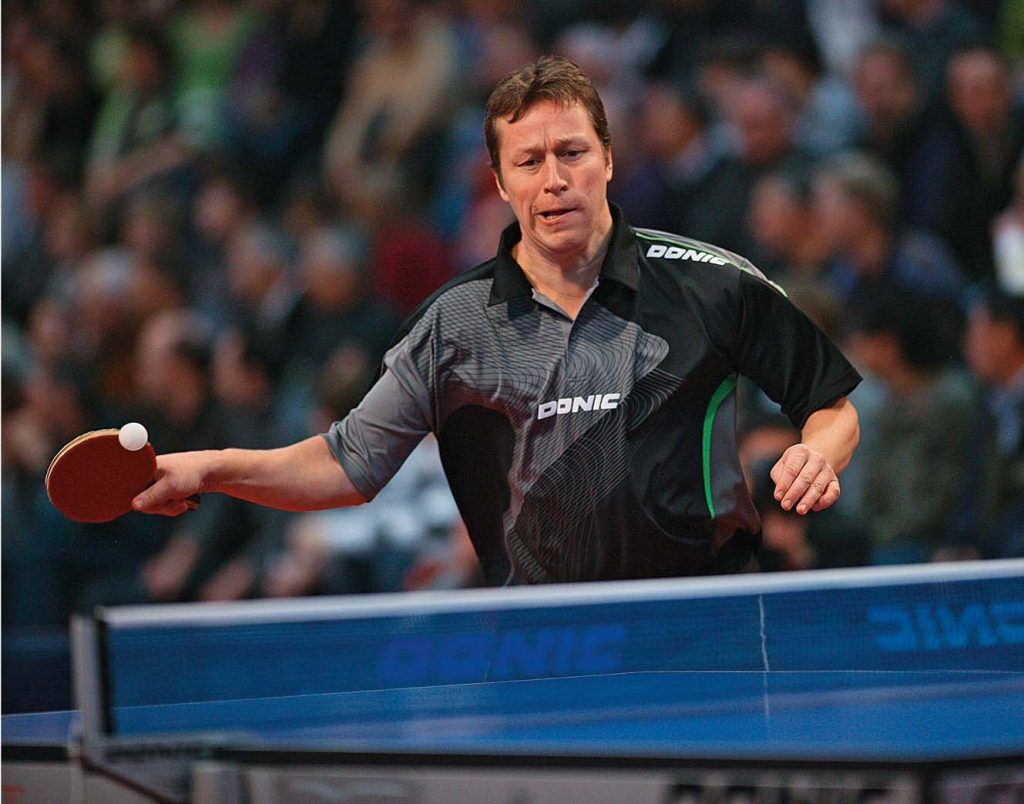 Waldner (from Sweden) is one of the most successful non-Chinese table tennis player of all time. During a period in the 1990s, he was said to be more popular in China than Bill Clinton who was the president of the United States.
Jan Ove's career was one of the longest at that time and he is rated one of the greatest player of all time because he was able to maintain an impressive hand to eye coordination all through that time.
One of the most recent memorable achievements was his 9th Swedish title against an opponent who was born on the same year he won his first Swedish Championship title. His career lasted so long that he even competed against young players whom his former opponents trained to professional levels, thereby earning himself the nickname "Evergreen Tree" among the Chinese.
Since Table tennis was made an Olympic sport, he is one of the seven players to have played in the first five championship years during which he won an Olympic Gold in 1992 and Silver in 2000. He won three gold medals in 1996 alone in the European Championship singles, doubles and Team competition.
With stunning records such as these , calling him a living legend of the sport wouldn't be an overstatement.
7). Liu Guoliang :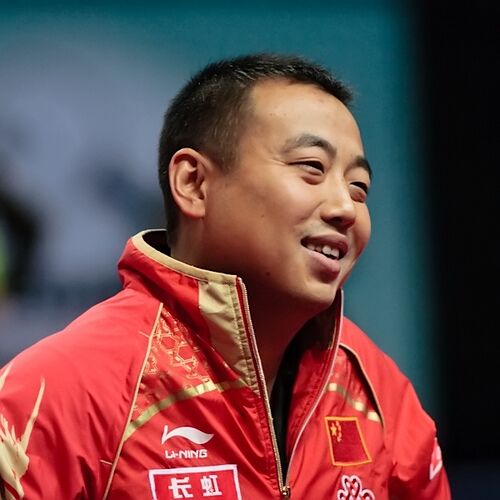 Liu Guoliang , the current Chinese Table Tennis Team coach (at the time of publishing) is the second player in the history of table tennis to achieve a career grand slam by winning the World Championships, World Cup and Olympic Gold during his active playing career.
He currently holds a distinction of winning at least one title in every major tournament including the World Cup, Olympic Games and the World Championships.
Like Deng Yaping, he is also from Henan, China and was born in 1976.
He achieved two gold medals, a silver and a bronze in the table tennis events of the Olympic games and went on to become the head coach of the Chinese Table Tennis team at the age of 27. Even though he was generally known to use an offensive pen holder grip while playing, he is also widely considered to be the best backhand reverse topspin player.
His brother, Liu Guodong also has a similar career and just recently resigned from being the Singapore's Women's Table Tennis team coach to head the Indonesian ping pong team professionally.
---
See Also : 5 Practical Ways To Get Better At Table Tennis
---
6). Deng Yaping :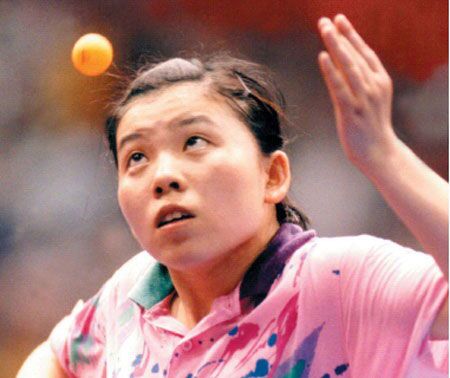 This Chinese and Henan born table tennis player was born in 1973 and went on to become one of the greatest female table tennis players of all time holding a record of four Olympic gold medals in her active career.
She won the women's double gold medal in 1989 commemorating the 40th World Table Tennis Championship and then the women's team gold medal at the 4th table tennis 1995 world cup. In addition to that, she won the women's single gold medal twice again at the 42nd and 43rd World Table Tennis Championship in 1994 and 1995 respectively.
5). Qiao Hong :
Qiao was born on the 21st of November, 1968 in Hubei, China and like Guo, she won a total of four major medals in her career making her one of the best table tennis players of all time. She achieved two Olympic gold medals, a silver and a bronze while her career was active.
Alongside her doubles partner and long-time world Number 1, Deng Yaping, they formed one of the most feared doubles team in the history of table tennis and with that won lots of titles so much that she was inducted in the ITTF hall of fame in 2005.
This shakehand grip user is currently a member of the Chinese Olympic Committee proudly representing her sport on a political level.
4). Guo Yue :
Guo Yue was born in Anshan, China in 1988 where she developed and mastered her passion for the sport. She is not just one of the best female players, but also one of the best table tennis players regardless of her gender.
She achieved two Olympic Gold medals and two bronzes in her active career making a total of four medals. Guo also won the bronze medal in the singles at the 2008 Beijing Olympics and then went on to become the Asian Cup Champion and world table tennis women's team champion in the same year. Prior to that in 2007, she won herself the women's singles and mixed doubles title at the world table tennis championship
Guo is left-handed and uses a shakehand grip for playing which is a common trait of the champions reviewed thus far.
---
See Also : 900 Words On The History Of Table Tennis
---
3). Xu Xin :
Xu Xin is the former world champion which he got by beating the current champion Ma Long, three times in 2014 and even twice in 2016. He followed in the footsteps of pen hold champions such as Ma Lin and Wang Hao with the shakehand grip, beating Long at the 2016 Korea Open title which was his third tournament title that year.
Before that, he also defeated Long in the semifinals in the Japan Open in 2016 but still didn't qualify for the Rio Olympics which is when Long stepped up and won the grand slam.
A summary of his records show that he has won the world tour ten times, he's a back to back winner of the World Tour Grand Finals in 2012 and 2013, won the Asian Cup twice in 2013 and 2016, and is a two-time semi-finalist at the world championship.
2). Wang Liqin :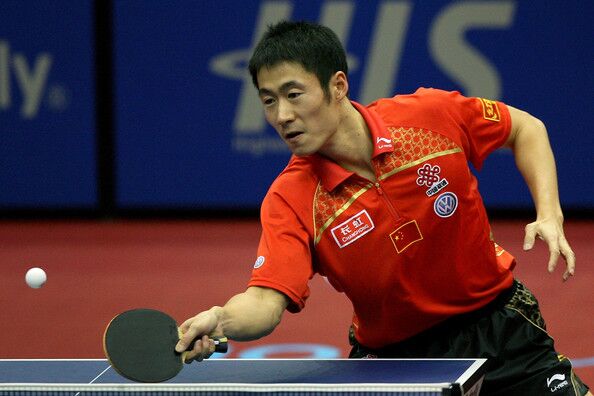 Like Ma Long, Liqin was the worlds' number one table tennis player for 25 consecutive months from 2004 to 2006 according to the ITTF rankings.
This record is second only to Ma Longs' current record of over 30 months. In addition to this, he is a three-time world champion, a bronze medalist in the singles competition in the 2004 Anthems Olympics and a gold medalist from the doubles at the Sydney Olympics in 2000.
He also won the gold medal in team competition alongside Wang Hao and Ma Lin.
This impressive lifetime record is owed to his early start at the age of 6 when he started to develop his style and joined the Chinese Men's National Team at 15.
His height, 6 feet 1 inch is also a major leverage for acceleration and more powerful shots complementing his famous shakehand grip so much that he is considered to have the most powerful shot in the table tennis sport.
1. Ma Long :
Born on the 20th of October in 1988, this Chinese player has truly earned his place on this list. This 2010 Asian Games Gold Medalist was the Asian and world Junior Champion in 2004 and since then, his career kept soaring towards stardom.
He is currently the longest reigning male world number 1 table tennis player of all time as he has held the title for over 30 months now since March 2015 when he was previously ranked number 2. Long holds a record of winning five ITTF Pro Tour Tournaments in a row with a winning streak of 35 sets in a row.
This is how he earned the nickname "ITTF Pro Tour King", and by also being the first male player to win every single match in ping pong. He is the fifth player to achieve a grand slam – which is the Olympics, World Cup and World Championships.
He uses a DHS Hurrican Long 5 as his blade, a black Nittaku Hurricane 3 Neo for his backhand strokes and a red Tenergy 05 for his forehand strokes. With this combination, he is regarded as the best two-winged looper in the history of table tennis.
Now over to you , who is your all time greatest table tennis player? Let's have your comment below.

Hey! , I am Roland Campbell , a recreational table tennis player for over 5 years and counting. I do a lot of research on table tennis (Ping Pong) and publish my findings here at Pingthatpong.