Table games are a critical part to setting up your game room. However, having more than one table usually takes up a lot of space that your room might not have, and also a lot of money to spend. The simple solution to this space and affordability problem is to get a combo table.
Combo tables, as the name implies, are tables that feature more than one sport. In most cases, all you need do is flip the table top, or replace it with another attachable one and enjoy a different game on the same platform and space.
5 Great Air Hockey Ping Pong Table Combo
1. Fat Cat Pockey 7ft Black 3-in-1 Combo :
This Combo table features three table games. The Air Hockey and the Billiards table tops are permanently fitted to this equipment in such manner that whenever you decide to play any of the games, you simply need to unlock the latch on the side and flip the table over to the sport that interests you at the moment and lock it again.
The table tennis top on the other hand is a conversion top. This means that it is made of three pieces, namely two boards and the net, which you can easily set up on either of the tables whenever you want to play. The reason for this set up is that the table tennis platform is usually larger than that the other two sports and as such needs to be installed differently to get a standard size.
The overall measurement of the table itself is 80 by 44 by 32 inches in length, width and height respectively. However, but the air hockey and billiards tables on either sides measure approximately 99 by 51 inches in length and width, while the ping pong table top measures 108 by 60 inches in length and width.
The billiards surface features a tetolon green cloth, drop pockets and rubber bumpers that promote a perfect shot rebound. There is a compact storage made of a trifold topper on the surface of the table tennis platform. For the Air hockey table, there is a manual scoring system mounted above the table's glossy white playing surface with border lines that share resemblance with a typical ice hockey rink as well as a high output blower that smoothens the motion of the puck with the thick cushion of air momentarily dispensed from it.
The only downsides to this combo table are that you won't be getting a full-sized experience for the billiard or air hockey tables. However, this makes them perfect for casual games and definitely nothing professional.
2. Triumph Sports 48-inch 4-in-1 Swivel Table
The Triumph 4-in-1 table might be the ultimate combo table, featuring four of the most played table sports namely; pool, ping pong, Air Hockey and launch football. The best part about this sweet deal is that it is amazingly cheap for its specifications even though it is more suited to kids than adults.
The table structure measures at 48 by 23.75 by 32 inches in length, width and height respectively which makes it ideal of young teenage players. However, this doesn't mean you can't have a nice time with it as an adult.
In addition to the four awesome games it features, the table has a patented rotating swivel technology that allows you to easily switch through games. This technology is complemented by a patented locking system that holds the topmost table top firm and steady so that you can have an uninterrupted and consistent game. The air hockey table top is well equipped with a patented central air distribution system that evenly distributes air across the table for smoother movement of the puck during play.
The leg levelers not only ensure that the table is steady, but could also be adjusted to different heights depending on the players. Conclusively, the table comes preassembled with all the required accessories for all four sports. Apart from being more suited to kids and teenagers, there is no other down side to this product.
3. NHL Power Play Combo Table
The NHL Power Play Combo Table unlike the previously reviewed products only features two sports, the Air Hockey Table and the Ping pong table. You might think this product has less to offer for its price because there are several others that offer more sports, but there's an upside to this configuration. Given that there are only two sports featured in the product, the manufacturers had the luxury of adding more to both sports to make them more standard compared to the other three-in-onesies.
With less moving parts, the NHL is quite easy to set up. Technically, this is just an air hockey table that comes with a conversion top ping pong table. Therefore, whenever you intend to play table tennis, you simply need to place the conversion top on the air hockey table. This makes storage easier since there are less moving parts.
The air hockey table itself measures at 80 by 43 by 32 inches in length, width and height respectively and is suitable for players of all ages and skill level. It also features a LED automatic score keeping panel on either sides of the field of play as well as sound system that sets the mood right for intense games and fun filled weekends. The table tennis conversion top measures at 80 inches in length by 43 inches which is good enough for your game room. More so, storage is quite easy as it splits into only three parts, namely; two table boards and the net.
There really is no significant downside to this product because given that it's not a commercial-grade product, you won't have high expectations of it. Even though aspiring professionals won't enjoy this nicely crafted piece that much, it will do just fine in your game room.
4. Hathaway BG1131M Triad 3-in-1 48-in Multi Game Table
The Hathaway is 48 inches long, which brings it even closer to a professional setup. However, unlike the previously reviewed Fat Cat Pockey model, this table doesn't flip over. All three tables are conversion tops which are quite easy to install and even easier to store because of their light weight. However, this doesn't mean that the tables are not of good quality.
The table itself is made of durable engineered wood construction that ensures you get to enjoy it for years without having to replace any parts. The dimension is especially good for kids who have passion for table games and adults who seek an affordable way to manage their hobbies.
The materials used in the manufacture of the table are environmentally safe and sturdy. The table's Medium Density Fiber (MDF) L-shaped legs are sturdy and have levelers beneath them to ensure that your table is perfectly balanced. The table comes with all the accessories required for each of the table sports such as the balls for the pool and the ping pong, pucks, strikers, paddles and cue sticks. If these parts arrive at your doorstep with damage, you are fully covered by the 180-day warranty that guarantees a fresh set of accessories sent to you at no extra cost.
The only major downside to this product is that it is better suited for kids and not necessarily for any official tournaments of any kind.
5. Giantex Multi Game Table
Like the previously reviewed combo tables, the Giantex also features Air Hockey, ping pong and pool table. However, unlike its name, it's not entirely a giant table as it measures 36 by 20 by 7.8 inches in length, width and height respectively.
It features a space saving design that allows it to fit into your game room without taking up a lot of space. No matter how small your room is, you can get a good shot from all sides of the table while playing pool with your friends. Although, given these dimensions, the table is best suited to kids and amateur players of all three sports especially air hockey.
One other significant part of the space saving design is that there are technically only two tables available to be fitted into the table frame instead of three. The air hockey and the ping pong table are featured on opposite sides of a conversion top. All you need do is flip over and you can have either of the two sports. The pool table comes differently as its design is more complex than that of the other two.
The construction of this Giantex model is sturdy as it features ABS, PE and PP materials which have been known to be long lasting materials for sports equipment. In addition, the leg levelers are also there to ensure that the table is well balanced even on inconsistent terrain.
On the upside, the table makes for a great birthday gift for your kids considering that the assembly is easy enough for them to do on their own and won't need your assistance. However, it's probably too small for adults to enjoy. Also, the air hockey compartment has no wind blowers, therefore the movement of the pucks won't be as smooth as you would expect.
Pre-Purchase Considerations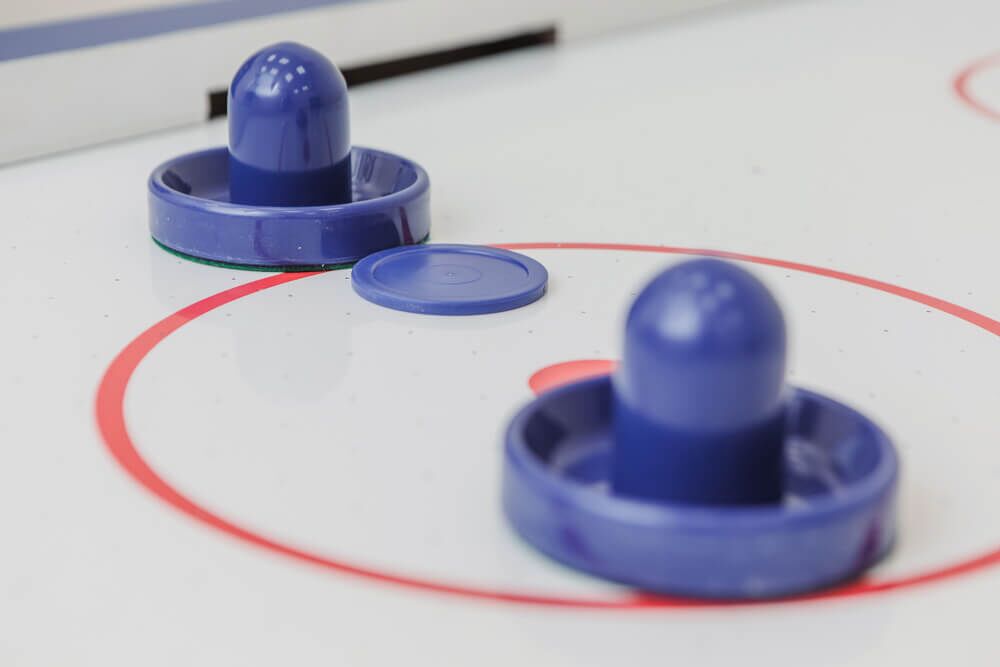 Combo tables come in different combinations. However, since this article is focused on air hockey ping pong table combo , the purchase considerations here will be particular to these two game types.
Combo Table or Conversion tops?:
Combo tables are those that have more than one table games featured in them. In most cases, you simply have to shuffle through the surfaces or just flip the surface over, lock and enjoy your game. Conversion tops on the other hand are tables that have one game type preinstalled on the table and then the others are simply attachments you place on the original set up. They are usually easy to store because they are lighter, but compared to the combo tables, there are too many pieces moving around and misplacement is a very likely scenario.
User Age Range:
From the products reviewed above and other market observations, you'll notice that the more game types there are in a particular table model, the less standard the table will be. This simply implies that if what you need is unlimited fun for your kids, and something to indulge your childhood hobbies once in a while, you could go for the 3-in-1 and 4-in-1 types.
However, if you plan to set up a semi-standard game room where you and your friends could kick it every now and then, you might need something more standard with a maximum of two table games. For example, the NHL table in the review section is actually an Air Hockey table that comes with a conversion top ping pong table and both tables are pretty standard.
Ease of Assembly:
Since you'll be having at least two table types share the same platform, it's important for the assembly to be as simple as possible. Games are for relaxation and stressing yourself over setting up the tables literally defeats the purpose of having a nice time. Leg levelers are also very important as they keep the table surface consistent especially in uneven terrains.
Durability:
With so many moving parts, you might have issues with some of the parts over time. If the parts are durable enough, you won't have to worry about any broken parts after months of assembly and dismantling the tables. Product warranties also help in cases such as this. For example, the Hathaway table has a 180 day warranty which includes a full replacement policy at no extra cost to you. These are benefits you should look out for; as they ensure that you enjoy your purchase for a long as possible.
Cost Effectiveness:
Don't be fooled by the pricing. The only way to see if the product is worth purchasing is by considering all the variables such as the age range suitability, the durability of the materials used, the number of sports featured and the warranty. By comparing all these variables with the price and then to the price of the other products in this category, you will be able to make an educated decision on your purchase.

Hey! , I am Roland Campbell , a recreational table tennis player for over 5 years and counting. I do a lot of research on table tennis (Ping Pong) and publish my findings here at Pingthatpong.