Whether you are looking to buy yourself a table for "Personal Practice" or perhaps you're building a game room for your home and office, table tennis is always a great choice.
Experienced players should have no problem choosing a quality table tennis table. However, beginners and first-time buyers would easily get overwhelmed by the numerous options available at their disposal.
I've put together this comprehensive list of best ping pong table reviews to ensure you get the best value for your money. These tables are top rated with thousands of positive feedback and a well documented product history, so you're sure to be in safe hands.
They are perfect for indoor or outdoor play.
Top Rated Indoor Ping Pong Tables Reviews
1. JOOLA Tour 2500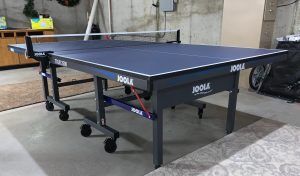 The JOOLA Tour 2500 table tennis table delivers the kind of quality the JOOLA brand is known for. This well-known brand has been around for 60 years and is the official sponsor of the US Open and US Nationals for table tennis competitions. The Tour 2500 is part of this legacy with a regulation tennis table that is easy to assemble and makes a fantastic addition to your home or office.
The Tour 2500 comes mostly assembled, only needing eight bolts tightened to attach the legs. It typically only takes about 15 minutes to set it up for play. It has two stand-alone halves, each with a trundle system for easy moving. It even has an anti-tilting device for your safety when you're moving it.
Measuring nine feet long by five feet wide and 30 inches high, the Tour 2500 has a heavy-duty powder coating on its 50mm frame. The undercarriage is 50×50 mm to help protect the table from wear and tear to expand the life of the tennis table. The four-inch black wheels can be locked to keep the table in one place.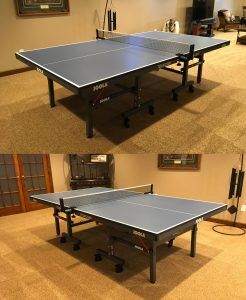 Tabletops can range from 1/2 inch up to one inch. The thickness of the surface affects the bounce of the ping pong ball. The JOOLA Tour 2500 has a 25mm (one inch) MDF tabletop with a blue finish, providing a consistent bounce and preventing chipping and warping. This surface is considered one of the best for table tennis play.
Final Thoughts
From easy assembly to a sturdy frame, the JOOLA Tour 2500 has it all. The tabletop is one of the best that you can find, and the table frame will ensure support for years to come. The quality makes the price of this tennis table very reasonable. It can be folded in half for solo play, or the two halves can be nestled together for perfect storage. But with so much fun to be had, why would you ever put it away?
2. STIGA Advantage Table Tennis Table
Our second choice table tennis table is
STIGA's Advantage which is another excellent indoor table with great value for money.
The STIGA Advantage table would fit perfectly in your home and office and can be used for recreational and competitive play. This table has a unique chassis design where in each table half features an independent caster beam such that the two halves are completely separated and can be individually used as tables.
This same independent design allows compact storage as each of the halves can be nested into each other.
Advantage is a 72-inch heavy duty net and post set that comes 95% pre assembled out of the box, and you can have it fully functional within 10 minutes by following the install instructions on the manufacturer's guide. It has a premium cotton blend net, tension adjustments as well as a clamp-style attachment which makes it easy to assemble and disassemble the net in a beat.
The STIGA Advantage's 5/8-inch-thick table top has a multiple roller coat finish as well as a silk-screen striping, while the table itself uses a spring loaded safety latch system to lock itself into an upright position from beneath the table to prevent the table from accidentally dismantling and causing any hazards.
The tube aprons which are made of 15-inch steel help support the top for even bounce across the entire surface of the table and at the same time makes sure that the top of the table remains flat and consistent all the time. The apron has a durable black matte powder coating with a white STIGA logo inscribed on it.
It is an excellent table for beginners although it can also be used by expert players and everyone who plays Ping Pong.
3. JOOLA Inside (Also Known as JOOLA Motion)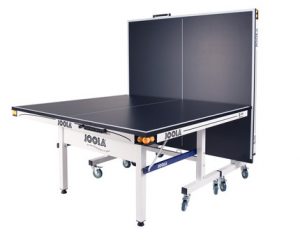 Our third pick table tennis table is non other than JOOLA Inside, one of the most highly rated tables till date. The Inside offers amazing value for money and has been JOOLA's best selling product for years ; a testament to the quality and its popularity in the TT community.
If you are a recreational , professional player , or someone looking to purchase his/her first table , we recommend this product for you.
JOOLA Inside is a tournament grade table that is feature-packed and affordable. This table can be used for fun play at home & office or for serious indoor competitions with advanced players.
Been an annual best selling product, you shouldn't expect anything less than USATT approved standards. The Inside is 15mm thick and durable with medium-density fiberboard (MDF) and a multi layer painted surface which helps with a consistent and reliable ball bounce.
If 15mm is not enough for you and you're looking for a thicker playing surface , the Inside table is also available in 18mm and 25mm surface , which also has the same features as the 15mm.
The steel legs on which the table sits are adjustable to ensure any level of playing surface that fits the height of the players.
This table comes 95 percent pre-installed. So, by simply attaching the legs with just 8 bolts at the different pivot points, and clamping the tournament grade net with the simple clamp design made for easy attachment, you're good to go within 10 minutes or less!
Purchasing the JOOLA Inside gets you get a tournament grade table with a 9 by 5-foot indoor regulation size and a net perfected for indoor play. You can also play solo (if you don't have a partner) using the playback mode by unfolding one half and leaving the other side vertically inclined.
For storage, you can fold the tables into halves and have them sit on a 4-wheel trolley. The trolley, together with the anti-tilting locking devices , provides safety both for transport and during storage.
4. Barrington Fremont Table Tennis Table
The Barrington Fremont tennis table is a top of the line official tournament table. This table is a classic and sturdy permanent addition to your game room that will dazzle your friends. You can use it for official tournaments. The quality of the tennis table is unmatched, and the sturdy structure makes it a more durable choice than folding tables.
Measuring out at 108 inches long by 60 inches wide and 30 inches high, the Barrington Fremont tennis table is made of solid wood to create a sturdy frame. The weight of the table is about 367 pounds upon delivery. The bolted legs ensure perfect support on the ends and middle of the tennis table.
The tabletop finish is smooth to support consistent ball bounce. The 18mm wood playfield is coated with a sleek and elegant black finish for that classic look. A premium net and clip-on posts are included to complete the look. The entire table is a beautiful piece of work that is carefully crafted.
While the size and weight of this solid wood tennis table do require at least two people to move and assemble the table safely, the assembly is easy enough. No tools, drilling, or screws are needed to put the table together, and it comes with step-by-step instructions. The legs fit perfectly and securely into place without any drilling required. The easy assembly process is a perk, and you'll be able to start playing right away.
Final Thoughts
Whether you want to spruce up your game room or have a quality table tennis in your business' break room, the Barrington Fremont Collection is for you. If you organize table tennis tournaments, the Barrington Fremont Collection tennis table is an ideal choice for upgrading your facility. The sturdy frame of the table makes it a durable option for official tournaments, practice sessions, and fun games with friends.
5. Killerspin MyT10 Ping Pong Table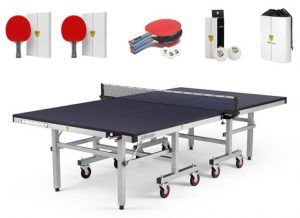 The Killerspin MyT10 BluPocket tennis table is a perfect fit for any room as it easily folds up and has pockets to store the balls and paddles. Whether you want pure fun or need to train for tournaments, this a top-quality table.
The table is easy to assemble (using two people for safety) and is sturdy and well built. When folded, the table is 9 feet long by 5 feet wide and weighs 310 pounds. Don't worry about its weight, though; it has wheels to move it or put it away if needed. The wheels feature brakes for safety, and the automatic gravity locker makes the table sturdy.
The table meets tournament standards and features a tabletop that delivers optimal bounce. It's the ideal table for a friendly game or a serious training session. If you don't have anyone to train with you, you can fold one half of the table and use it to practice by yourself.
Instead of chasing after that missed ball, grab a spare from the convenient ball storage pocket, which holds up to eight ping pong balls. Someone else can chase that ball down while you spar with your opponent. And at the end of the game, stow the paddle away in the paddle pocket. It keeps the paddles safe from being lost or broken.
Final Thoughts
From a superior product to making memories of a lifetime, the Killerspin MyT10 table tennis tables are among the best quality products you can find. You'll be amazed at how often people will put down their phones to enjoy a good game and make memories that will last a lifetime.
6. STIGA Space Saver (Also Known as STIGA Midi)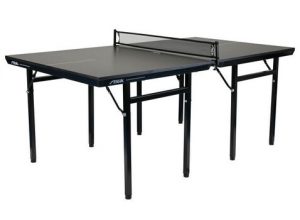 You love table tennis but don't have space for a regulation table. That's ok! The STIGA Space Saver table is scaled down to 71 inches long by 40.5 inches wide but is still at the regulation height of 30 inches, so you're not scrunched over.
This mid-sized table comes fully assembled with two table pieces, so all you have to do is unpack it, fold the legs down, and get ready to play. It is perfect for smaller apartments and small offices. It is also great for kids who are learning how to play table tennis as it suits their size.
The tabletop is 5/8-inch-thick but has the same bounce as a full-sized table. The two table halves are independently assembled, so all you have to do is fold down the square framed steel legs. Adjustable molded leg levers protect your floors from scratches. And if you live in an old home with wonky floors or have thick carpeting, you can adjust the feet so both halves will align. When you're done playing, you can store it under a bed or in a closet.
Since this tennis table comes in two pieces, you can use each half for more than one purpose. The tennis table halves can be used as side tables or even as extra dining tables when you have more guests for dinner. Covering the table with a cloth can keep the tabletop from being scratched.
Final Thoughts:
The STIGA Midi Table can provide hours of fun and last-minute entertainment with little prep. One of the best features is the versatility of the tennis table itself since it comes in two pieces. The manufacturer uses a repeat roller coating process to create a smooth finish, and the black color scheme can match any decor. This medium-sized tennis table is an excellent alternative to a regulation-sized tennis table.
7. JOOLA Rally TL 300
Looking for a tournament grade indoor table? JOOLA'S Rally TL 300 is a perfect table for indoor competition and championships.
This JOOLA table can be a centerpiece in your competition , given its unique black charcoal top, magnetic abacus scorers and corner ball holders, each of which can hold up to three 40mm ping pong balls.
Its separable table halves can be used in solo or playback position, or as separate tables which could be improvised for other functions. The net and post set are easy to attach and assemble given its clamp style net which has simple tension adjustments.
As far as durability is concerned, the Joola Rally TL 300 features a sturdy and power-coated steel legs which have rubber levelers to prevent your floors from scratching when installed or moved. It also features custom height adjustments so that it fits any surface level of play.
Rally 300's 1.5-inch apron offers an exceptional durability and bounce across the entire surface area of the table while the three-inch caster wheels glide easily such that moving the table becomes a fairly easy task. More interestingly however, each half of the table has four wheels, so, you don't necessarily have to move them together. This in addition with the foldable feature makes it very easy for compact storage.
Each of the wheels features a locking device that makes sure the table remains firmly grounded during play, or during storage. It comes pre-installed, and you can have it set up in the comfort of your venue in minutes without stress.
Top Outdoor Ping Pong Tables
1. STIGA XTR
The STIGA XTR outdoor table is manufactured with all-weather materials such as exterior grade powder coating to keep the appearance in shape, galvanized steel – which ensures a rust free, waterproof and sun resistant guarantee, as well as Aluminium for all round durability.
Like other tables , it comes 95 percent pre-installed and you can have it up and running within 10 minutes. This table is perfect for your patio or places where there is least protection from climate as the top is an Aluminium composite built to resist sun damage, rust and even warping.
This top is supported by a steel apron with a direct print of silk screen at the top.
The 1.25-inch square legs are made of steel featuring a cross brace welded to make the table stable even under interference. It is padded with adjustable rubber leg levelers as well as a self-opening for assembly or dismantling for storage.
For more convenient mobility, there are 3-inch lockable ball-bearing wheels with the locks strong enough to hold the table in place while in use, or in storage.
The STIGA's unique chassis design allows the two halves of the table to be completely separated for other uses or for a more compact storage. While folded in storage, the safety latch system under the table locks the various halves and ensures that they don't come bearing down accidentally while in storage.
The 72-inch net is of exterior grade all-weather durable material and the post set itself comes with string tension adjustments and a threaded clamp attachment system that can be screwed on and off for assemble and dismantling respectively.
2. JOOLA Nova DX
JOOLA is one of the most featured brands here and they deserve this credit because of their high quality products. This Nova DX model for example is an outdoor champ.
With a 6mm thick Aluminium and plastic composite surface, there is a very impressive amount of resistance to chipping and warping. This formidable setup sits on a 30mm by 30mm rust resistant powder coated undercarriage.
For easier and safer mobility, the table is halved, and each half sits on a separate 4-wheel trolley system. These halves could also be configured for a solo playback game, or used separately as improvised tables for other purposes.
For storage, the nesting halves have solid formidable double anti-tilt locking devices which ensure optimal safety while in transport or in storage and can be unlocked by simply pressing the lever and the table starts to unfold itself. The tires on each of the tables make the set up and transport to storage way easier than carrying.
The legs are adjustable to match any terrain, and can be locked with the caster wheel lock for stability and fair game play. The center net is of matching weather resistant grade, featuring a screw design and net tensioning system is so easy that can be assembled in seconds.
3. STIGA Vapor
The STIGA Vapor outdoor table is skillfully engineered with affordable Plastic-Aluminium weatherproof composite such that it doesn't warp or fade through harsh weather conditions.
The 6mm thick playing surface is also coated with rust-resistant powder, blue paint and silk screen with white tournament lines that helps maintain its appearance and increase its durability.
Its durability is also marked by steel legs and support levelers which have anti-tilting action for improved bounce and uneven terrains. There are also 0.75-inch ball bearing wheels and locking mechanisms that add to the stability and easy mobility of the table.
Given its dimension being 107.87 L by 60 W by 29.92 H inches, the Stiga Vapour Table conveniently folds at the center for solo play back modes (28 L by 60 W by 62 H inches) and compact storage positions.
The legs are 15-inch wide steel with levelers for balancing. This 90 percent pre-assembled equipment can be installed and dismantled within minutes even though being an outdoor equipment, might not be often required.
Other features include an outdoor net, an easy to install clamp set, a 1.5inch steel apron and a 90-days manufacturer warranty.
4. Killerspin MYT7 Blackstorm
The Killerspin MyT7 , like many other of the brands' products , is an aesthetically pleasing table for both casual and competitive level of play. It is made out of a unique aluminum-plastic blend built to deliver optimal performance outdoors, and endure through any harsh weather or climate.
Its weatherproof strength is backed by durable PVC fabric, combined with a special Ultraviolet resistant coating which prevents it from dirt, snow, rain and even sun damage.
This outdoor table also comes with a MyT 7 black storm jacket/cover which also helps extend your tables' life span. There's also a ball pocket included (which can store up to 8 balls on each side), as well as racket pockets on each side of the table.
Setup takes nothing more than 15 minutes, as it comes semi-assembled. The same applies to folding for storage and mobility. There are also 4 leg levelers which help balance the table to match the terrain or height of the players. This also works for when the table is improvised for other height sensitive purposes.
Other features include a tough weatherproof clip-on net and post system whose clamp system is easy to install and dismantle within seconds.
5. Cornilleau 250S
Cornilleau 250S doubles as both an indoor and outdoor table because materials that work for outdoors are just as good for indoors.
This model however, features a weatherproof table top and net designed to last years. This claim is backed by a 10-year warranty on both the equipment and workmanship although warranty excludes wear parts.
The Cornilleau 250s table has a resin laminate top and a frame made of galvanized steel. The laminate is 5mm thick and provides a hard and dens playing surface, while the steel frame is 1.5 inches thick.
The legs are also made of galvanized steel and levelers all capsuled in resin to boost stability and durability. The reflective property of this table is managed using a patented SOFT MAT® glare reduction finish, which for most of the time, makes it less reflective or distractive as the case may be.
The wheels on each of the legs are about 8 inches each and are in double formation with a notched thread. There is a racket and ball storage on each side of the table.
The net is made of weather resistant polymer and has an added feature of both height and tension adjustment. The net manually folds into smaller sizes for storage and protection from wear.
6. Kettler Champ 5.0
Germany based Kettler is known to manufacture their products in their facilities and pride themselves in delivering an unmatched level of quality towards providing their customers with innovative, durable and cost effective products lasting them years of use.
Their Alu-tec aluminum tables are a pioneering technology in the development of weather resistant ping pong equipment. It entails the sealing of resin treated board in Aluminum permanently, giving it years of durability, while allowing the playing surface to retain effective bounces for exciting outdoor fun.
The Kettler Champ 5.0 table has a non-glare waterproof aluminum top as well as their patented climate control tech underside to keep it sturdy and protect it from different weather conditions.
This table has a pair of two-inch galvanized steel legs which prevent corrosion and resist damages such as harsh sun rays among other things. The entire equipment is foldable with a patented locking mechanism that keeps it bolted during use, while in motion and in storage without being a potential cause of accidents. You could also lock halfway and enjoy rounds of solo playback game modes.
Other accessories include 6-inch dual casters with rubber surface for easier storage and mobility, outdoor rackets, three pieces of star balls, and a premium outdoor cover for protection from rain or snow.
It comes with a 5-year warranty which covers repair and replacement.
How Do You Choose Your First Table Tennis Table?
For first timers looking to get a table, it might be a little confusing to pick the right one considering the numerous options on the market. Our buyer's guide below will enlighten you on the important factors to consider when shopping for a table tennis table: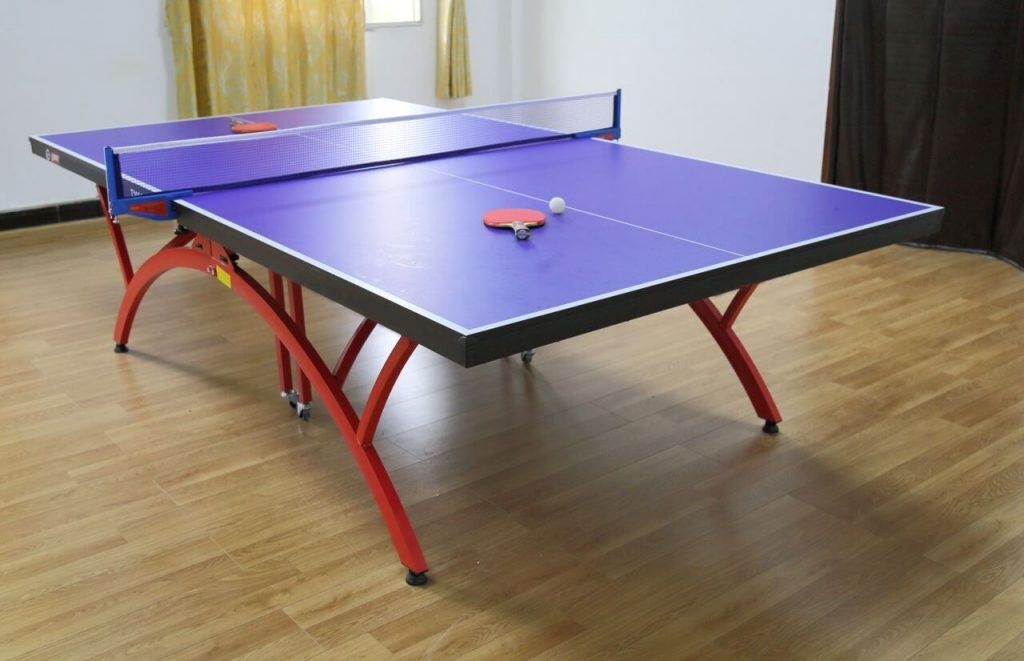 1). Are you playing indoor or outdoor?
Firstly, you need to decided where you intend on using the table. Are you going to play indoor or outdoor?
It is very important for you to know this because although they look the same , indoor and outdoor table differ in the materials used for construction. Outdoor tables are usually built with special coating on the surface to help it withstand extreme weather conditions when kept outside.
2). How much are you willing to spend?
The next thing you should consider is your budget.
How much can you spend on the best table tennis table without feeling the effect (in your pocket)? This is a very important factor because there are several options available at different price points , so you can always choose something within your budget.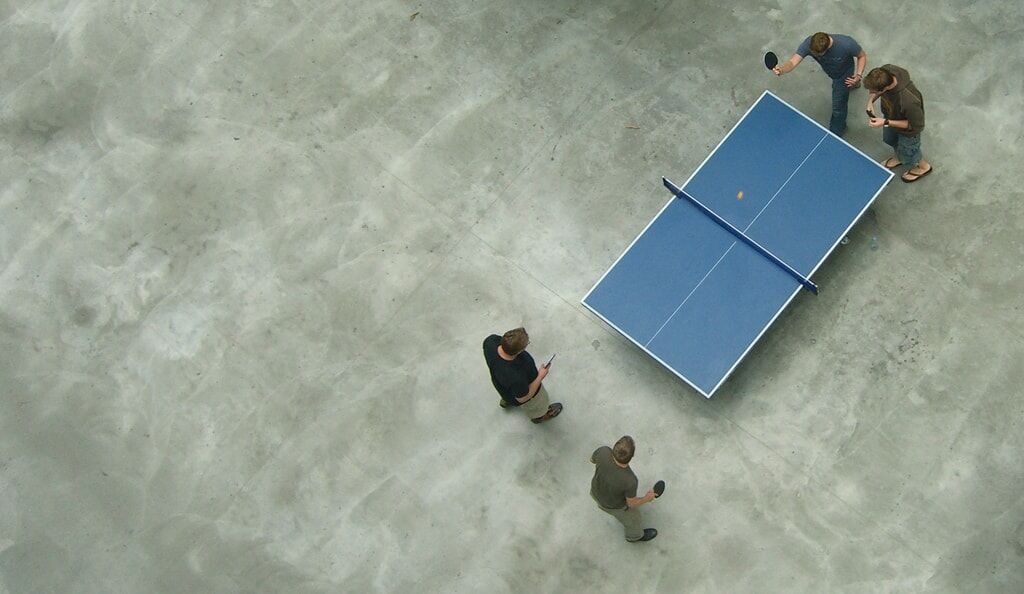 Conclusion
Buying a table is just the first step. You need to cultivate a maintenance habit to ensure they last for years to come.
You can start by getting covers (if yours doesn't come with one) to cover the table wherever you install or store it. To keep it from any unlikely incidents, keep out of the reach of children so they don't take it apart.
Also , if you have any issues with the set up you should first consult the owners' manual provided in every purchase or get a sport instructor to help you with the set up. Also, don't forget to take advantage of the levelers in cases of uneven terrains or say, reduction for shorter players.
Finally, you might be tempted to use your indoor table outside. If you choose to, make sure it is well protected from the weather and restored to a safe storage space after use.
Stay tuned to Pingthatpong for more reviews.
Related Articles:

Hey! , I am Roland Campbell , a recreational table tennis player for over 5 years and counting. I do a lot of research on table tennis (Ping Pong) and publish my findings here at Pingthatpong.