Have you ever lost a game simply because you used a poorly constructed table tennis paddle?
I've been there before and trust me , i know how it feels.
You see , winning a table tennis match is not only about techniques and strategy ; you need the right equipment for proper execution. In this case , you need the to have the best ping pong paddle.
Table tennis rackets are available in different variations depending on the player's grip and preference. It is composed of a wooden handle affixed into a solid blade whose material varies mostly between carbon fiber and seasoned wood.
The blade is the spherical part that comes in contact with the ball during play. It is covered with rubber for damping and to allow technical shots from highly skilled players.
This rubber often has pimples – sparse array of dots to make the surface somewhat rough – with one side painted red and the other black. This is due to a regulation that prevents one player from being tricked by their opponent with different shots.
Best Ping Pong Paddles Reviews For 2019
1. Stiga Pro Carbon :
The first product we researched (and the best ping pong paddle) is STIGA Pro Carbon , which best suits intermediate players looking to take their game to the next level. This paddle offers tremendous power and speed and more interesting is the fact that it costs less that other paddles with similar offerings.
For around 50 bucks , you'll get a power packed paddle with great spin. However , one drawback you should know is that the rubber padding on the blade tends to degrade after a couple of months depending on how frequently you play , although other players confirmed the paddle maintains its original speed and spin quality after replacing the rubber.
Speed : 99%
Spin : 100%
Control : 80%
2. Killerspin JET800 :
Talk about a tournament-level paddle for best performance and look no further than the Killerspin JET800 , which is the top rated product for professional playing. At one point , the JET800 was the top choice of Chinese gold medalist Chen Qi who is regarded as one of the best ping pong players.
The biggest selling point of this paddle is its speed which is rated 9.5/10 although it also excels in other categories such as spin (9/10) and control (8/10). With this paddle in your hands , you can respond quickly to your opponent's shots while delivering killer spins of your own.
The drawback we found is that the Killerspin JET800 is at the higher-end of the market and may not be affordable to everyone. To be clear, this paddle retains an unparalleled performance and durability throughout all its features , only that it is more expensive than other paddles.
So if budget is not an issue for you , this paddle is worth every penny.
Speed : 9.5
Spin : 9
Control : 8
3. Jebor Professional :
If you're into ping pong for recreational purpose and nothing serious then it may not make economical sense to spend heavily on a paddle. Right?
Jebor Professional offers best table tennis racket at an affordable price.
This paddle is budget friendly as you get 4 paddles and six balls at a very low price ; all in the same pack. This might be the only exciting feature of this product, although it's a great choice for recreational games and fits virtually all playing styles.
4. STIGA Evolution :
If you find our top choice for professionals (Killerspin JET 800) too expensive , STIGA Evolution is a worthy alternative to consider. The reason why we rate the JET 800 over this paddle is because the Killerspin JET 800 has a good overall balance and very few negative complains whereas the STIGA Evolution's main problem is that it may be difficult to control although it gets better as you adapt.
As a light paddle, professionals can play for hours without tiring, however, users have complained that it's hard to maintain control with this paddle because of its hollow grip. Suffice to say, it's not intended for aggressive or offensive players but for defensive play.
Also , if you are finding it hard to differentiate between the Evolution and Pro Carbon , our Stiga Evolution vs Stiga Pro Carbon review is very comprehensive.
5. STIGA Supreme :
STIGA Supreme comes with a 6-ply wood extra light blade padded with ITTF approved future inverted rubber designed for tournament play.
This combo is manufactured using high tech blade machines to mill micro channel length ways in the middle of the blade. The channels are then filled with different materials to improve the overall performance of the paddle. The rating of the paddle is at 90% for speed, 92% for spin and 89% for control.
The STIGA supreme also features a crystal technology which hardens the surface of the blade and increases its speed, as well as a WRB technology comprising of the weight balance which helps with the balance of the blade to the point of contact with the ball , rate of Recovery which helps decrease the weight of the blade after each stroke for perfect recovery, and the ball sensitivity feature which provides extra sensitivity of touch by strategically positioning the handle.
The rubber is a 2mm thick spongy material, while the handle is an anatomical Italian composite that complements the blade for perfect delivery of each stroke.
6. STIGA Titan :
The STIGA Titan is a ping pong racket featuring an ITTF approved triumph inverted rubber with a 2mm sponge hard-pressed on a 5-ply extra light blade for optimal control and speed. The blade is attached to a concave Italian composite handle which complements it perfectly. The blade itself is improved using crystal technology which hardens it.
This hardness increases the speed of delivery of every stroke, thereby contributing directly to its performance rating. Considering its price and the materials used, a performance rating of 80% speed , 77% spin and 82% control is quite impressive.
The handle is made of concave Italian composite which makes grip quite easy, and according to reviews, makes it feel like you're playing without a paddle. It also features a WRB technology which basically comprises of weight balance, recovery rate and ball sensitivity.
The weight balance feature ensures that the balance of the blade is shifted to the point of contact with the ball during every stroke and recovery rate is improved by making sure the weight of the blade reduces for better recovery after each stroke. For ball sensitivity , the recess in the handle is strategically positioned for extra sensitivity for each touch.
The speed and reaction time is also improved by the use of balsa wood for the blade and innovations like this have kept STIGA in a leading position in the sport equipment category for over 60 years spanning over 100 countries.
7. Butterfly 401 :
Like other brands, Butterfly prides themselves in the results of their technology and how well users review them.
A lot can be said about the Butterfly 401 ping pong racket in terms of its performance ratings and distinctive qualities such as the Shake hand grip with a flared handle. This additive increases the comfort on the grip for users so that it absorbs sweat and keeps the grip strong for long periods of use.
It also features a Yuki 2.1mm inverted rubber plastered on both sides of the blade, red and black – as per regulations – which provides tackiness and a springy feel for spins.
This, among other options have resulted in an impressive performance rating according to tests results in accordance with ITTF regulations. Out of a perfect 100, the speed is at 80, the spin is at 80 and the control is at 85%.
Other features include a butterfly full racket case for storage and safekeeping. There's also a gift box included in the package in case you intend to use it as a gift for a friend. It has the complete professional and recreational vibe packaged into every purchase , like other best table tennis paddles.
The not-so-cool ?
The performance rating of this paddle, although balanced, is not very impressive but its durability is off the charts. The other significant downside to this paddle is the size of its handle. Clearly, players with big hands would find it very difficult to use. If any of that doesn't bother you, you'll surely find this cheaply priced paddle worth its salt.
8. Killerspin Jet 200 :
This Chicago-based best seller can help you sharpen your tennis skills given its many features such as the 5-ply wood design which is very adaptable to a basic level of play. If offers a balance between speed and control in such way that as a beginner, you can't possibly go wrong with it.
The 5-ply wood design on the blade is padded with a patented Jet Basic Rubber in blue and black on both sides. This padding helps tremendously with control.
There's also a flexible PVC side tape on the side of the racket that protects the padding from coming of the blade, or external influences such as humidity from compromising the bind.
The blade is complemented with a flared handle with a robust grip that keeps you concentrated on the ball rather than your composure.
Between the blade, that handle and the padding, you get a performance rating of 85% control, 70% spin and 60% speed. All these ratings and features are backed by a 30-day warranty for optimal customer satisfaction.
Other features include a memory book, with which you could keep scores, write down lessons and experience , personalized messages and even autographs of renowned ping pong professionals. It comes in three color types, namely; Bluvanilla, mocha and lime.
The not-so-cool? :
Killer Spin is known for really fast paddles , but the speed of the JET200 is just too low to be ignored. It doesn't pass as a professional grade paddle, however, players who need to work on their control or newbies who need general improvement would find this paddle very helpful.
9. DHS Hurricane II :
The DHS Hurricane features top notch materials whose effects are distinctively reflected in its performance. It uses some of the finest Chinese rubber for the padding with spongy effects looking like red pimples over the padded surface of the blade for impressive control and spin.
The padded surfaces on both spongy sides are painted black and red according to ITTF regulations, confirming it as a performance grade paddle.
It also comes with a comfortable grip in a robust handle to give you enough traction and comfort while you play through numerous matches without being distracted by unnecessary adjustments as a result of sweaty palms or thin grip.
The Landson wrist support makes sure that your strokes correspond with the control, spin and support of the ball at each interval. This , according to most users , tends to improve your delivery and give it the extra touch you need to win your opponent.
There's a racket cover in each purchase, which can easily contain two perfectly placed balls and the paddle itself. This could make for an excellent gift giving the packaging. It comes with a warranty which only works if the paddle is not tampered with, especially the rubber covers.
Final Notes :
The DHS Hurricane II is a professional-grade paddle and is therefore justified by its high price. However, it is more suited to players who use the Asian or shake hand playing grip.
The only significant downside is that the rubber tends to lose its tackiness after a considerable amount of play. Needless to say that the glue technology is not of high grade, but the spin on the paddle might be enough to convince you that it's a worthy buy.
Conclusion :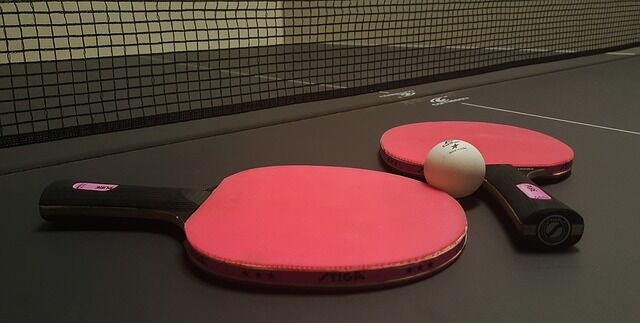 With this comprehensively reviewed best sellers, you couldn't possibly go wrong after making your pick. However, it's best if you carefully go through the reviews to sort out the ones that match your skill level. Doing so, you'll get the best value for your purchase.
More importantly, you need to take into consideration other factors such as your budget, the prominence of the brand, the warranty as well as other common purchase considerations, like you would with other business transactions. Also, these factors determine the quality of the paddle and directly affect your game play.
However, when entry level and professional best ping pong paddles sit at close price range, it is best to adjust your budget to the higher quality option as a long term investment for you.
Pingskills video below is a good buyer's guide :
Don't forget to get yourself a table : https://pingthatpong.com/best-ping-pong-table/ or a conversion top : https://pingthatpong.com/best-table-tennis-conversion-top/

Hey! , I am Roland Campbell , a recreational table tennis player for over 5 years and counting. I do a lot of research on table tennis (Ping Pong) and publish my findings here at Pingthatpong.